Many people ask us why they should make the switch to partnering with our team in San Francisco, instead of working with an agent they have a history with, or the agent that gives them a discounted commission percentage. The answer is different for home sellers and buyers. In summary, from a seller's perspective, we deliver you top dollar for your property, which more than makes up for a discount. For buyers, it's simple- we get you the home you really want. Below, you'll find the top 10 reasons why you should consider working with us:
1. We deliver exceptional results
Talk is cheap, which is why we like to start with results. We are proud that for years we have been selling for a higher price per square foot than other San Francisco realtors. When selling our clients' homes in 2020, we earned them on average +9% versus the market rate. Last year, we identified many off-market opportunities for our clients and 20% of them actually decided to purchase one of them.
From personal experience, we know how stressful it can be to have your house on the market. In many cases, our clients have already bought another property and time is of the essence. In 2020, our average listing sold 51% faster, which saved our clients many sleepless nights.
The San Francisco real estate market can be characterized by high demand and limited supply, for much of the last two decades. It might not shock you to learn that all "on market" purchases we have been involved in this year were multi-offer situations! Because of our market knowledge and industry contacts, we win most of them.
2. We are a top team
If you needed brain surgery, would you go to a general practitioner or a brain surgeon? One of the reasons Missy started a team was to get expertise in every field. Our Marketing director, for example, knows more about social media and marketing your home to potential buyers than the rest of the team combined. In addition, our operations team knows more about getting a kitchen project done, on budget and on time than many contractors. And when we bring a property on the market, we track and make adjustments to the social media campaigns in real-time.
Another big advantage of working with our team is that we are always available to host or join you on a showing- this means 365 days a year! Six people want to see or be shown houses at the same time? For us, that's not a problem.
3. We pay attention to details and don't drop the ball
Since selling a house is not something you do everyday, you want to be assured that nothing is forgotten or overseen. This is why we have invested in our own customized version of Salesforce with over 200 check boxes of tasks which need to be accomplished during the sales process. Tasks get assigned to different team members and everyone is up to date on where your home project stands at any time.
4. We are analytical, smart and data driven
Because of our background, we like to make decisions based on facts. Some of our team members are real data geeks and we let them do their thing. They analyze every possible number, from staging cost and increased revenue per square foot to selling price. We know what pricing to expect and make sure you are not charged too much compared to similar projects. What key word converts best on social media for a Pacific Heights condo? Any business starts with the customer and we make sure we target who is going to buy your home.
Because of our systems, we are able to analyze every aspect of our business. For example, when we recommend a stager, we can tell you why. Not only based on the look and feel match for your property, but also based on previous results of a similar property.
5. We are liked by other agents because we are reliable and collaborative, even in the toughest of deals.
We encourage you to ask any real estate agent or broker in San Francisco about their experience working with us. Things you will hear are: professional, buttoned up, made my life easy, can be relied on, have amazing properties for sale (at any price level), what a great team and (hopefully) fun :) It all comes down to seamless transactions and not breaking promises. We have great relationships across the real estate industry and other agents like/love to do deals with us. These strong relationships give us access to important information like when properties will come on the market, before the general public knows about them.
6. Our (social media) marketing is unparalleled
Pictures say more than a thousand words, which is why we use the most skilled photographers in San Francisco. Meticulous preparation goes into every photo shoot and we always use fresh flowers to complete the best look and feel.
In 2020, we had 867,123 social media exposures citywide for our clients' properties. Chances are high that you saw some of them.
Speaking about seeing our listings... our database enables us to market a property to 98% of San Francisco real estate agents instantly. We make sure that every real estate broker or agent knows about each and every listing we bring on the market, not only through the MLS, but by seeing it in their email and presenting it on their Facebook and Instagram feeds.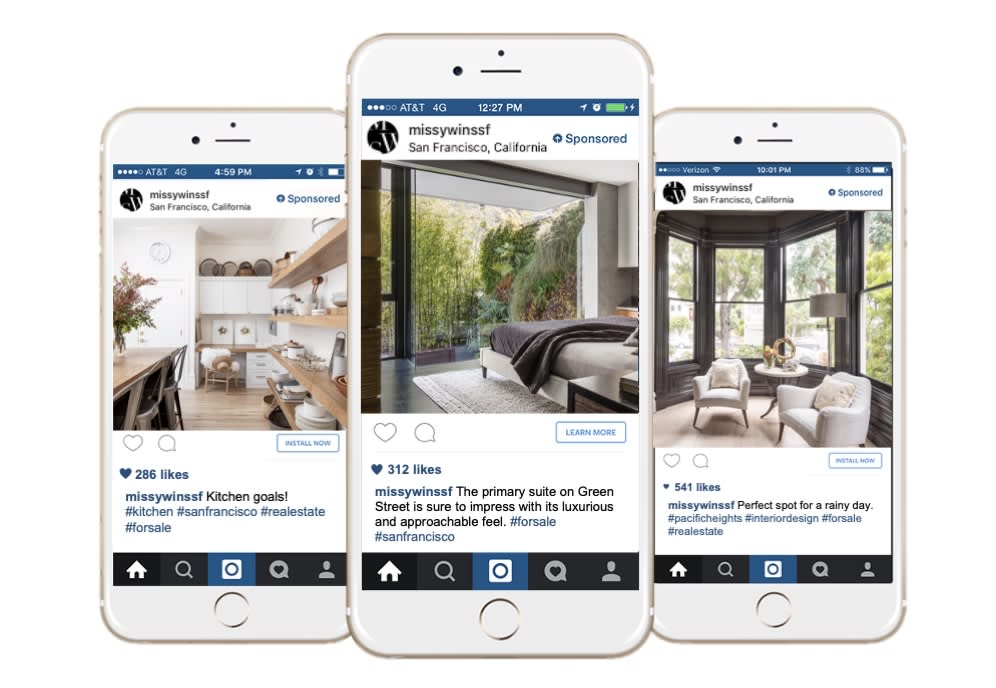 7. We invest in our clients' properties
We are big believers in preparing properties before bringing them on the market. They are often the best investments our clients have ever made. When was the last time you invested $100k and returned 3 times that amount within months? Over the last 2 years, we have financially helped clients invest over $1.5M in their properties before they brought them on the market - resulting in an increase in their value of more than $3 million!
On a side note, we wish we got a dollar every time one of our clients says, "We should have made these changes years ago, so we could have enjoyed them!"
8. We have experience, and believe in the San Francisco market
During our career, we have been involved in real estate transactions which range from $300k to over $40 million. We have worked with friends, strangers, introverts, extroverts and have been involved in transactions which we can and will not tell you about. Even though the process is the same at every price point, the clients are always different, which is what we really love because every client is equally important to us.
We have worked in San Francisco real estate for over 20 years and have lived in most neighborhoods (everywhere from Russian Hill to the Mission, to the Marina and back to the Sunset district). We believe in San Francisco real estate which is proven by members of our team personally buying and selling 6 properties in 2020 (COVID year).
9. We are pleasant to work with
A large part of our team's time is spent on staying in touch with past clients, who often have become good friends. We like people and sometimes we wonder if we are in the real estate or people business. We are an outgoing group of people that likes to work (and go out) together. Our glass is always full and we always have smiles on our faces. We believe that life is too short to work in a field in which you aren't fully fulfilled or in love with, especially given that we put in many hours each week.
Another thing that sets us apart, is that we are really competitive and like to win. Check our athletic backgrounds, from swimming across the British Channel to All-American college athletes. As Missy often reminds us, real estate is like being an athlete, it always feels great to win!
It might not surprise you that the large majority of our business is repeat or referral business. Clients who worked with us once become lifelong clients. Check out our client testimonials, or ask us to get you in contact with a previous client who was looking for something similar to what you are looking for... we'd be happy to connect you!
10. We have and work with the best partners
We partner with many stagers, painters, designers, architects, plumbers, lawyers, etc... and can call in 'the cavalry' for anything which might arise. We know and have worked with multiple people in each trade, since every occasion might call for something different. Since we treat them well and frequently work with our partners they are always ready to jump in, even when others might be too busy.
Thank you for making it this far. Now, let's chat in person!