You've heard of love at first sight, but how about love at first sound? Well, that's what I experienced when I fell in love with my fixer. I knew it was a match the moment I heard the address — a wide house on an even wider lot in Sea Cliff. It was the kind of standalone home that reminded me of the Midwestern homes from my childhood. Plus, I had my eye on the neighborhood since we wanted to be near our girls' school.
When we opened the front door and stepped inside, I was smitten. My husband, however, was not feeling it. I could tell by his body language (crossed arms) and the look on his face what he was thinking: Way too big of a project! Our girls weren't convinced either. They loved our home in Russian Hill and the idea of change/moving seemed scary. Of course, it's a bit tough to explain potential to a 7 and 9-year-old, but I wanted my whole family in on the excitement.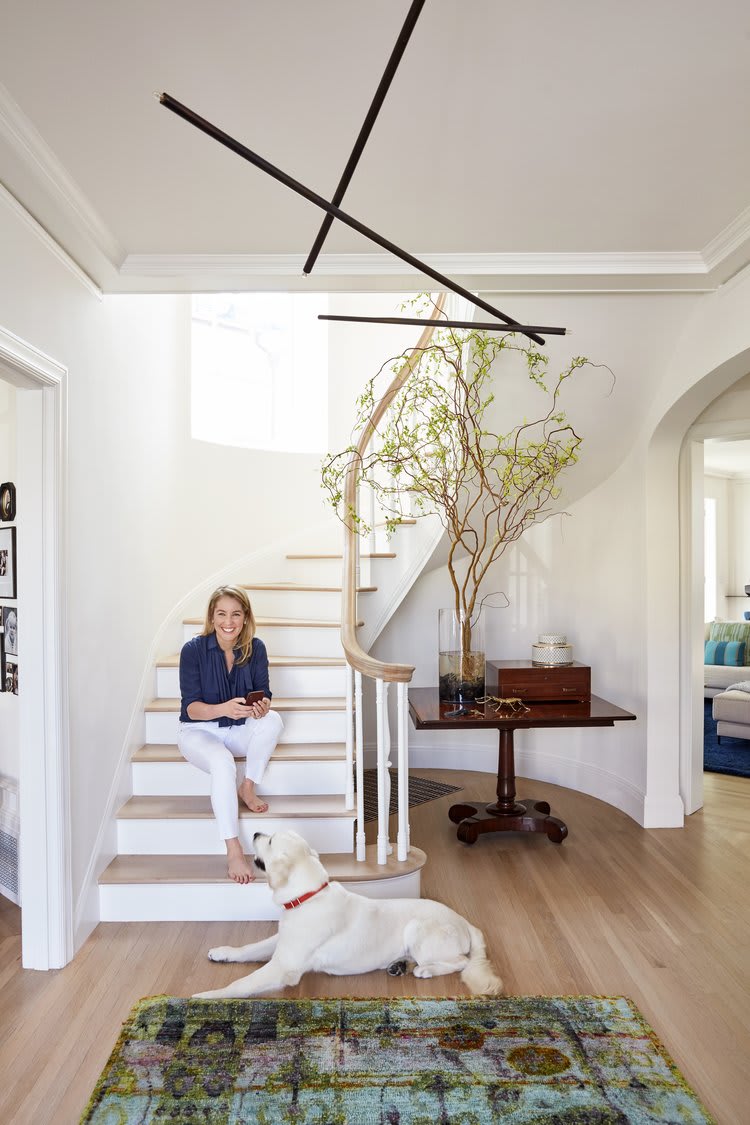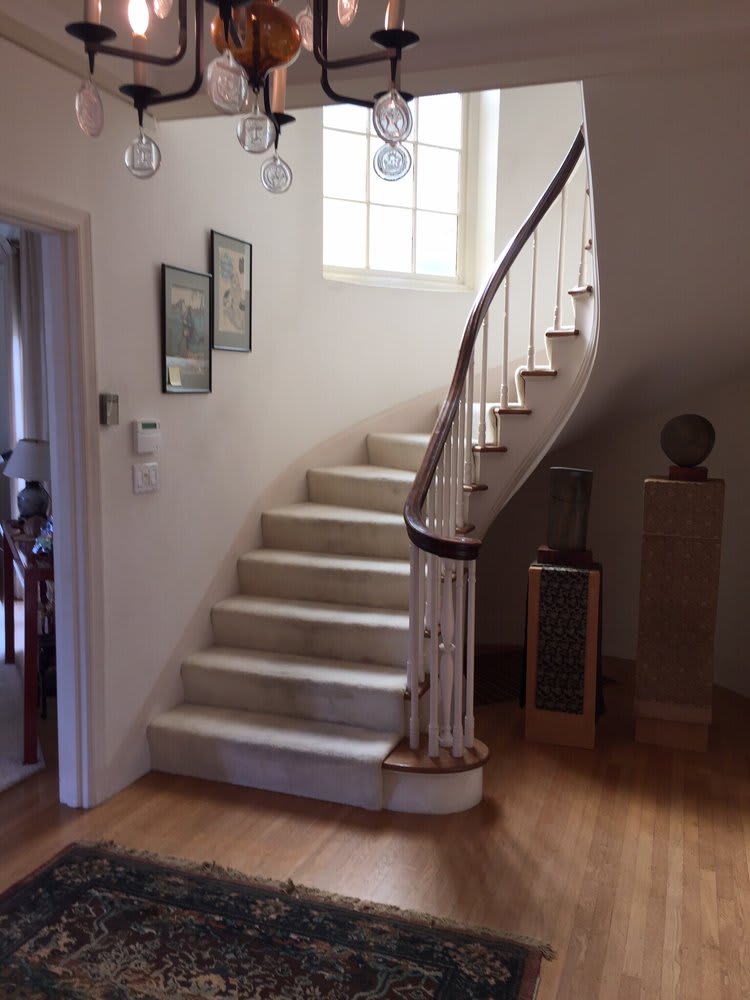 So when we hopped in our car and I turned to tell Yvo that this was definitely our house, I quickly promised we'd just stick to what we do for our listings: paint the walls and the cabinets and refinish the floors. Easy breezy! We'd save a bigger project for later down the road. My strategy worked. He signed on.
A small project was definitely what I sought out to do — promise! — but one thing led to another, and all of the sudden we had architectural plans drawn up for a full-blown renovation. The good old, "while you're at it syndrome" kicked in. Luckily, by this time Yvo had caught the bug too, and once we had a vision there was no turning back. We were all in.
Lots of people can be nervous about going in on a major remodel with little experience, but that's why you hire the experts! We got a taste of remodeling when we knocked down a wall and created a great room in our previous home, but a total renovation was new territory. So we got down to business. We interviewed contractors, architects and designers over coffees, walk-throughs and phone chats. In the end, we went with our gut and found a team of fabulous vendors that suited our style and needs.
When we were thinking about the look of our home, we wanted to keep the bones and steer clear of over-modernizing it. The home was clearly well loved and we wanted to keep the character and some historical details of the place. Our contractor, Jeff Fitzsimmons, helped us bring this 1920s home into the current era without totally leaving behind the details that made it special to begin with - we kept the original crown moulding and window trim and revamped the solarium, which felt more like an outside space. We added wood floors to create a natural flow with the rest of the home, and now it's a cozy, sunny nook for reading or lounging. It also happens to be our sun-loving dog Dutch's favorite spot to relax.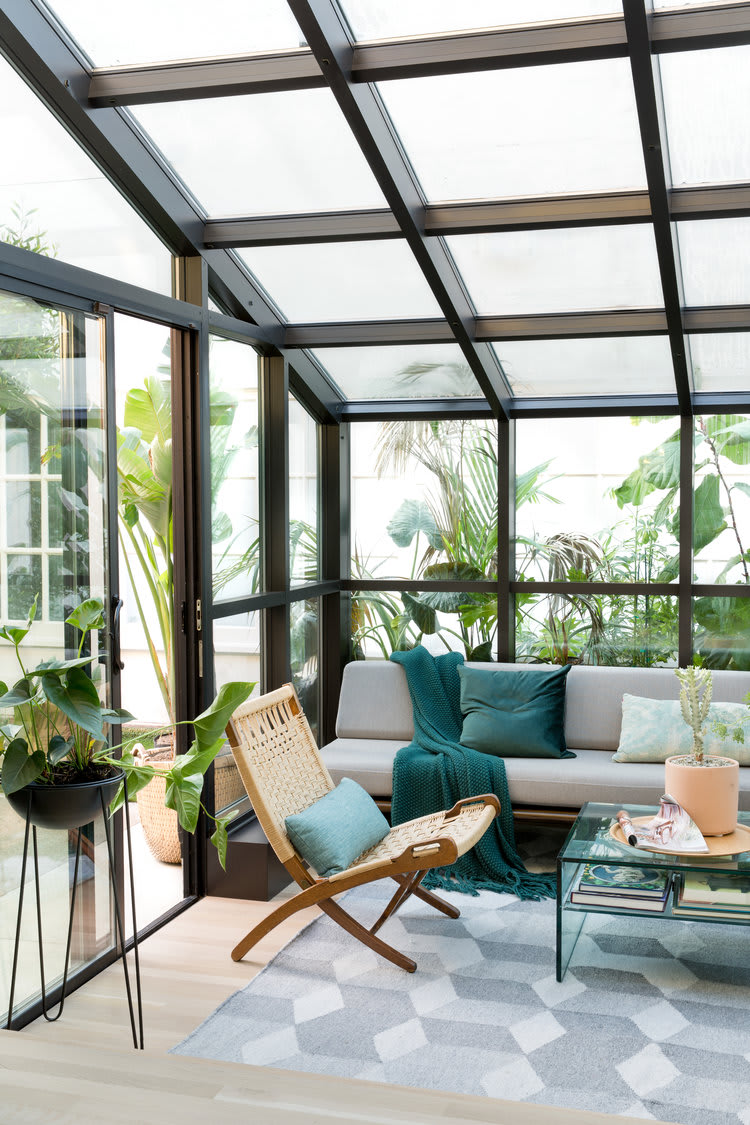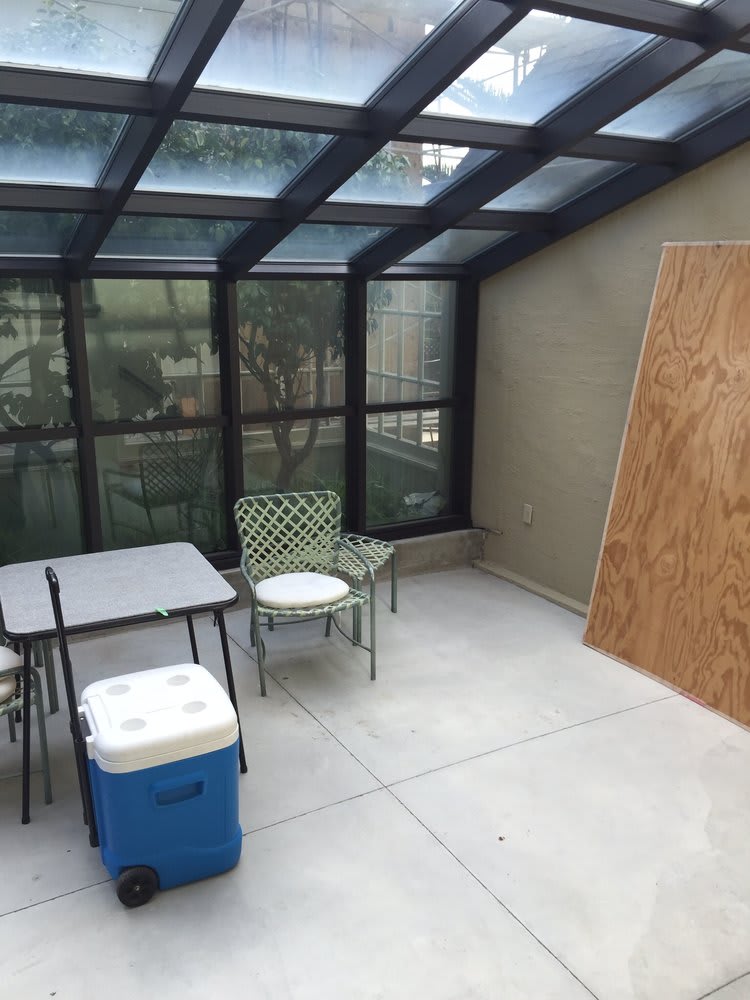 Our biggest undertaking is where our architect, Robert Stiles, really shone. We decided to turn the formal dining room, the galley kitchen and the breakfast nook into one giant great room. So we took some sledgehammers to the walls (well, the construction workers did) and installed a massive structural support beam. The trade-off was losing a formal dining room, but this new layout fits our family's lifestyle perfectly. We love being able to be in the kitchen while one of our girls sits at the dining table doing homework and the other snuggles up reading on the sofa.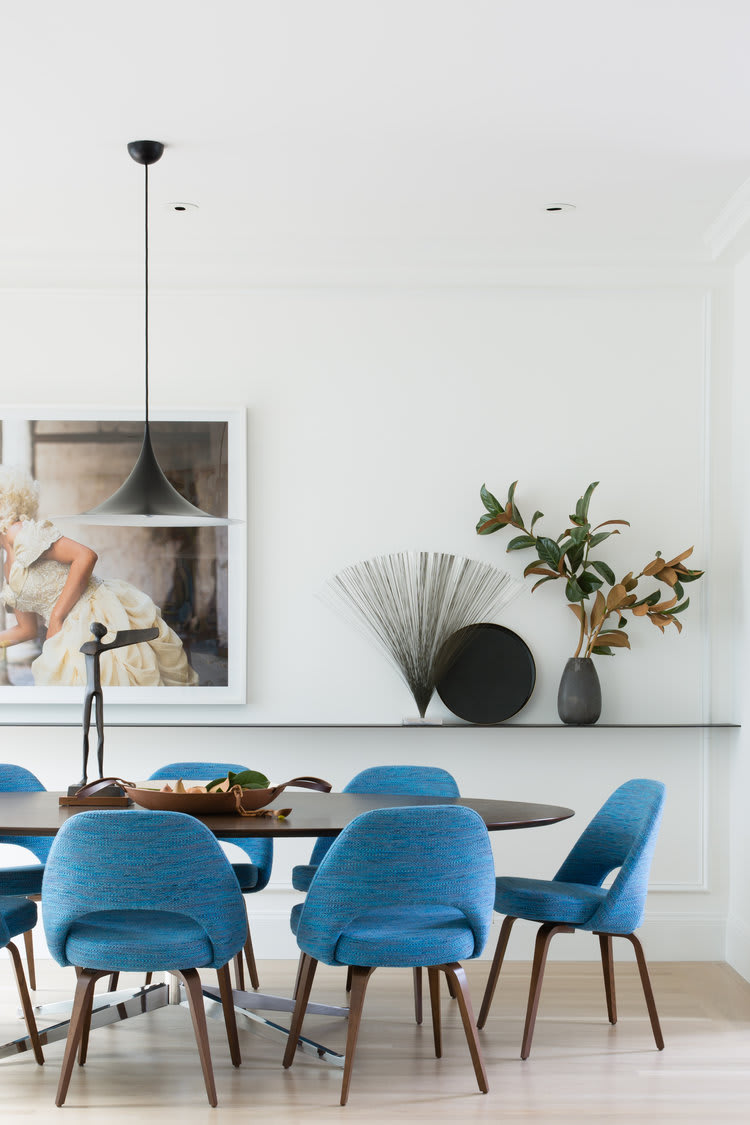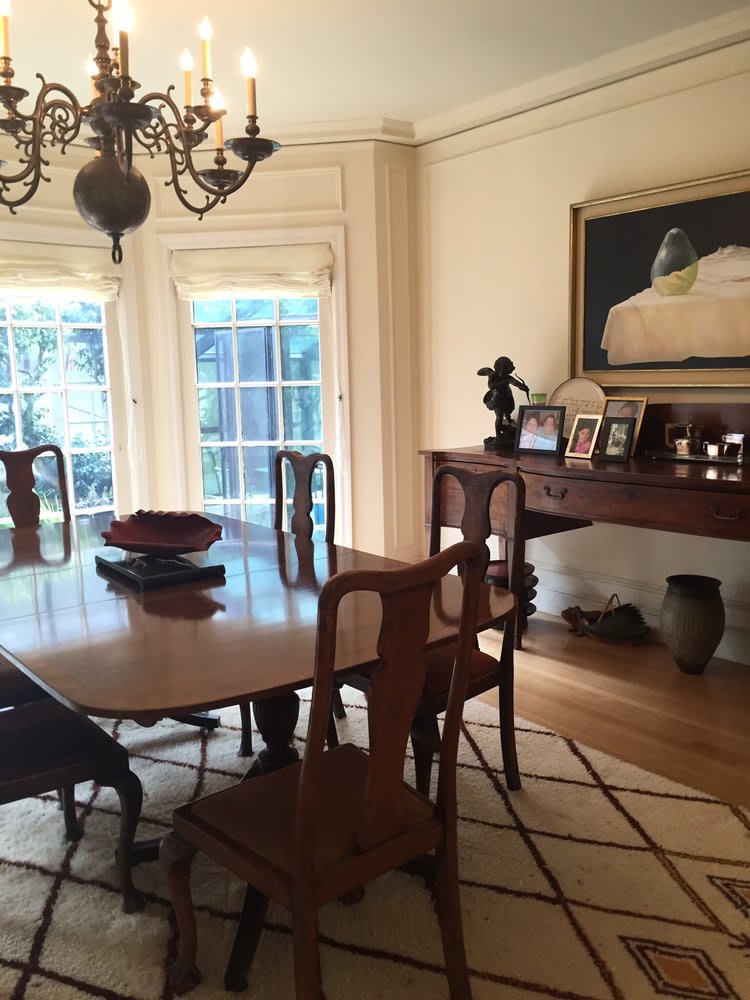 When we hired our designer, Regan Baker, she had her work cut out for her. After all, I've seen something like 10,000 homes over the course of my last 15 years in real estate, and that means I have a never-ending source of ideas and inspiration. Plus, we needed helped merging my style — a little more traditional with a twist of preppy — with Yvo's — sleek, simple Scandinavian. She was crucial in helping us distill our thoughts into a cohesive vision.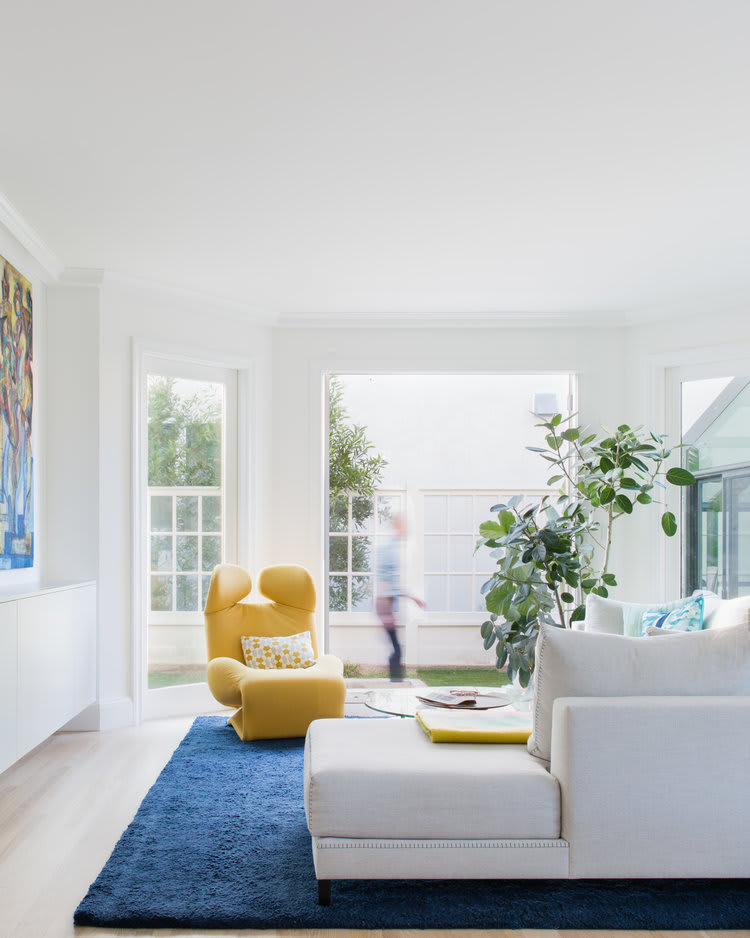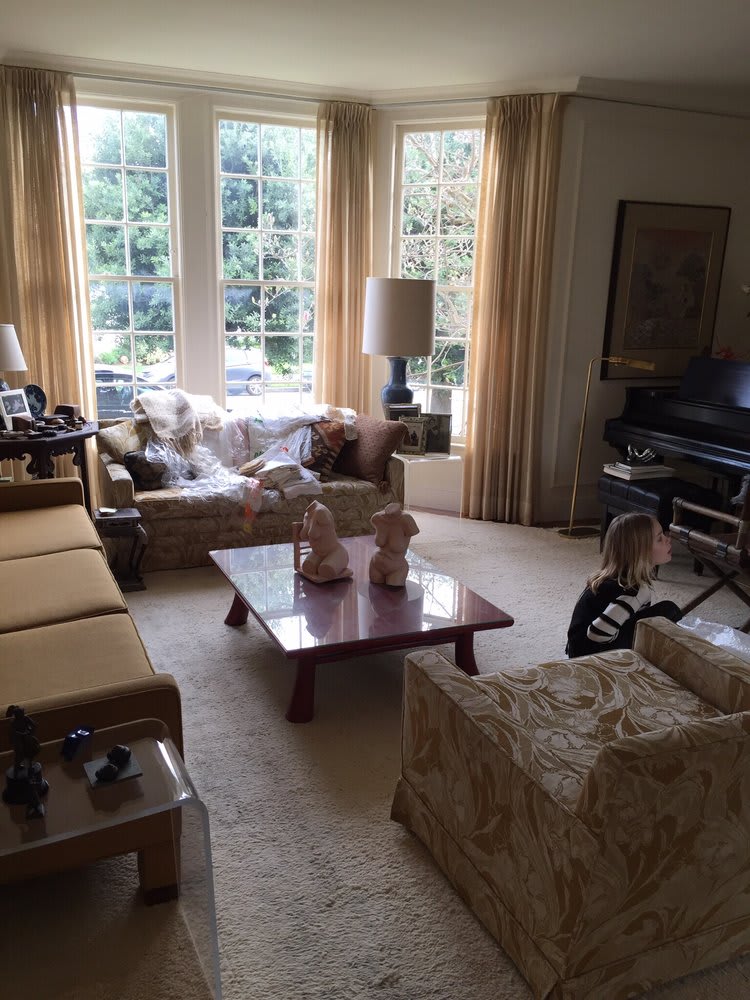 My favorite secret in the house, though, is our bar. The home came with an elevator, which we debated keeping. So we turned it into something that was more our speed: a bar that goes to all three floors! Regan found an artist who created a custom deep-blue agate mural for us and paired it with a brass bar cart. We kept the phone for a dash of vintage flavor and added a new light. The best part is that we can still fit 4 passengers or several suitcases.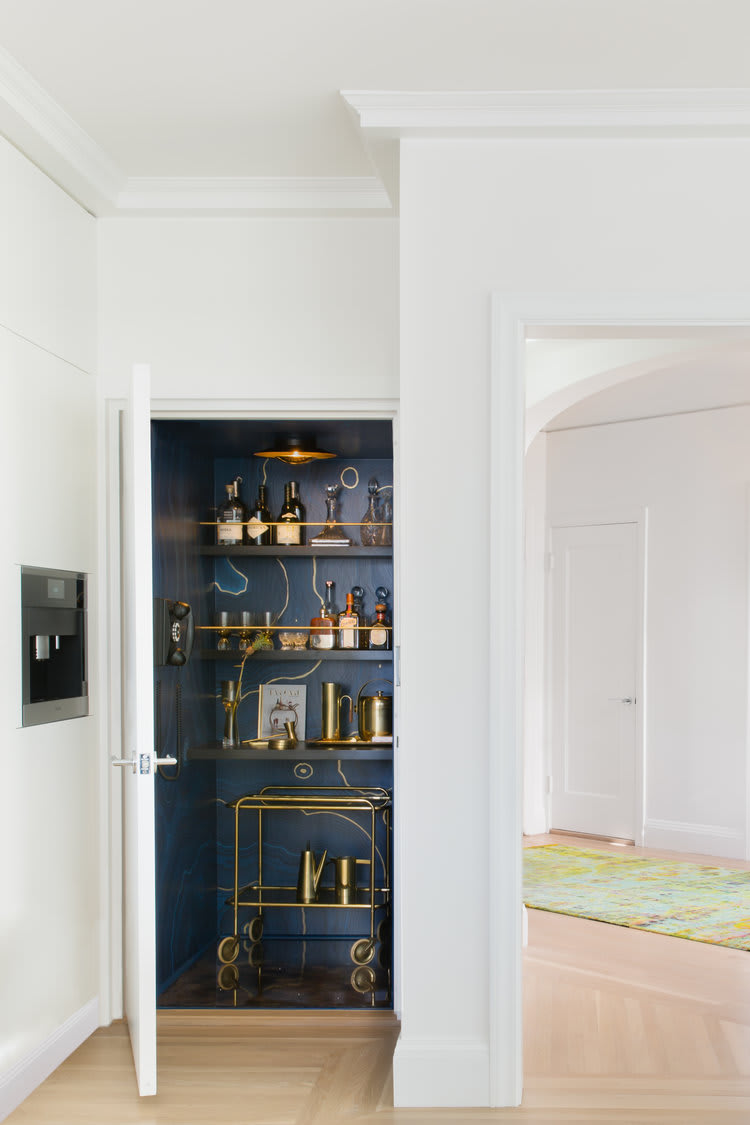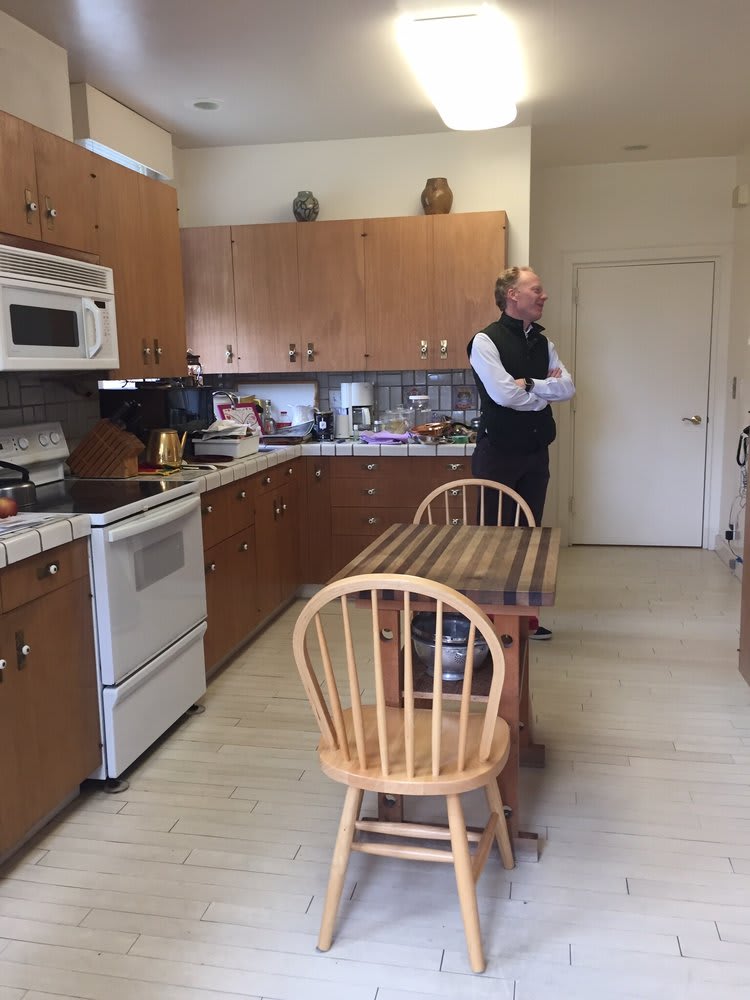 The kitchen was one of our favorite spaces to design. We went with European appliances to suit my European husband's sensibilities, and I opted for honed Calacatta marble countertops. Many people steer clear of marble in the kitchen given how high maintenance it is, but we couldn't resist. We love the classic look and kitchens are made to be used.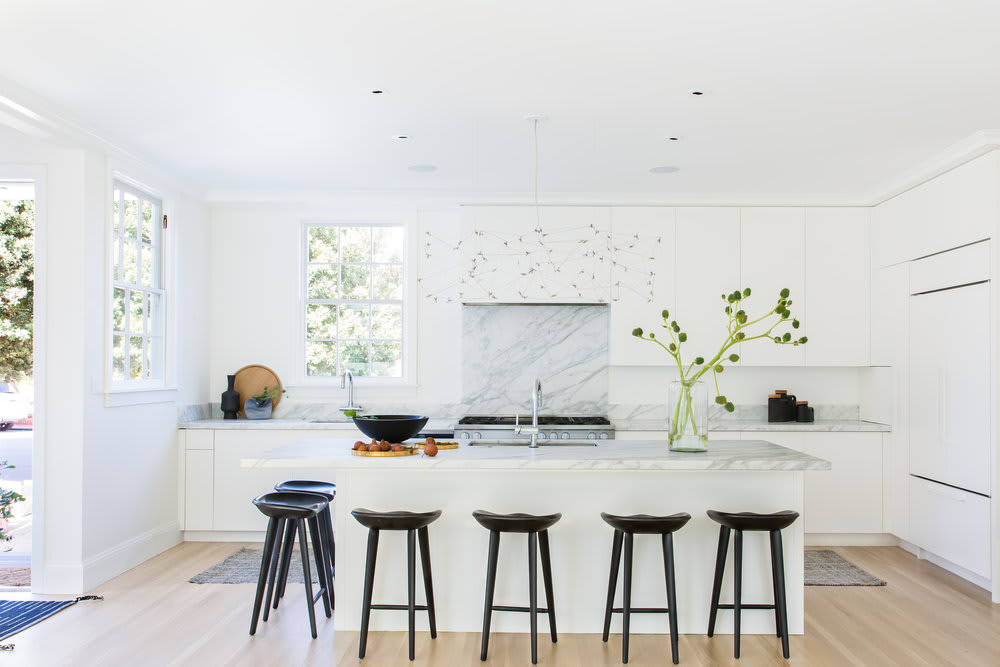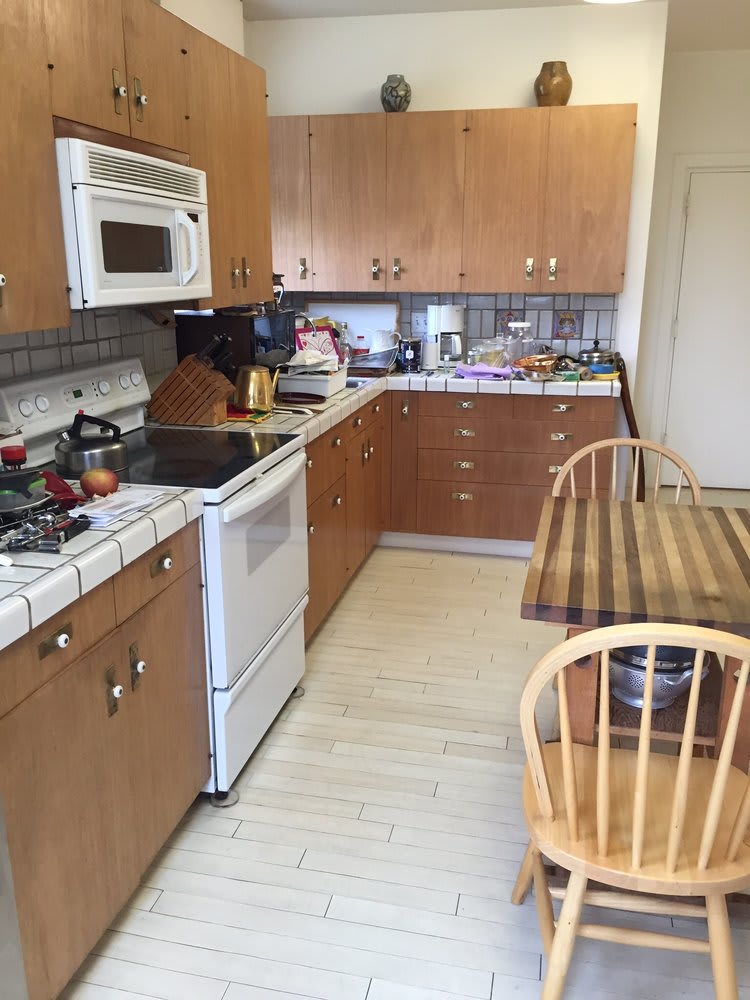 When it came to the bathrooms, our main goals were simplicity and consistency. We reconfigured the master bath and added another so each of our girls has her own space. We used the same Calacatta marble in the bathrooms as in the kitchen and the same white cabinetry as well. We found that it really lightened and brightened up the spaces and created a calming uniformity throughout the house.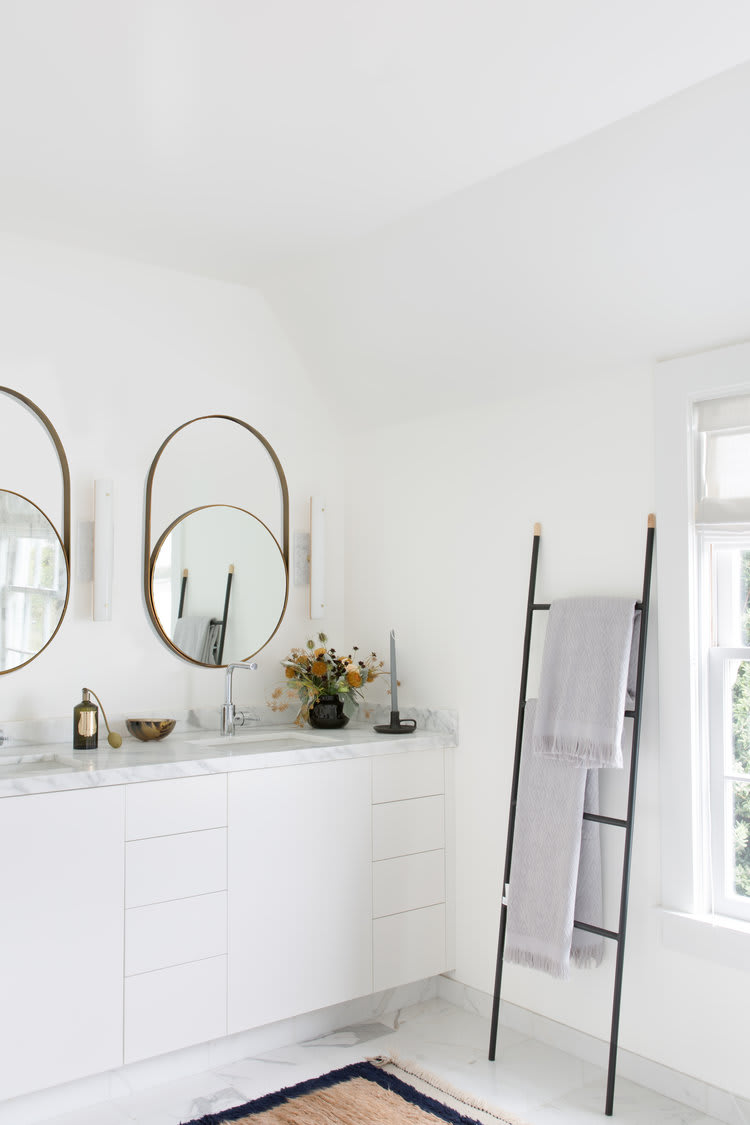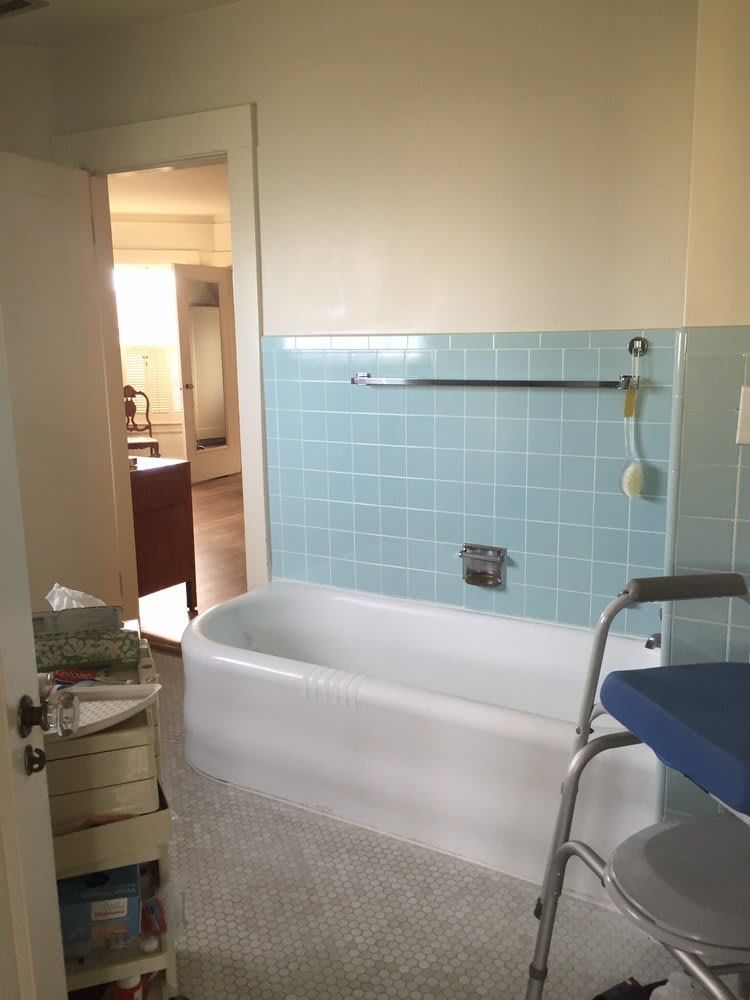 While we love clean bright whites, we did want a touch of drama so we went with a luxe blue in my office: Benjamin Moore Gentleman's Grey. It added the right mood to our otherwise airy choices. It also totally transformed the original fireplace and mantle. This is proof that the right paint can revamp a space.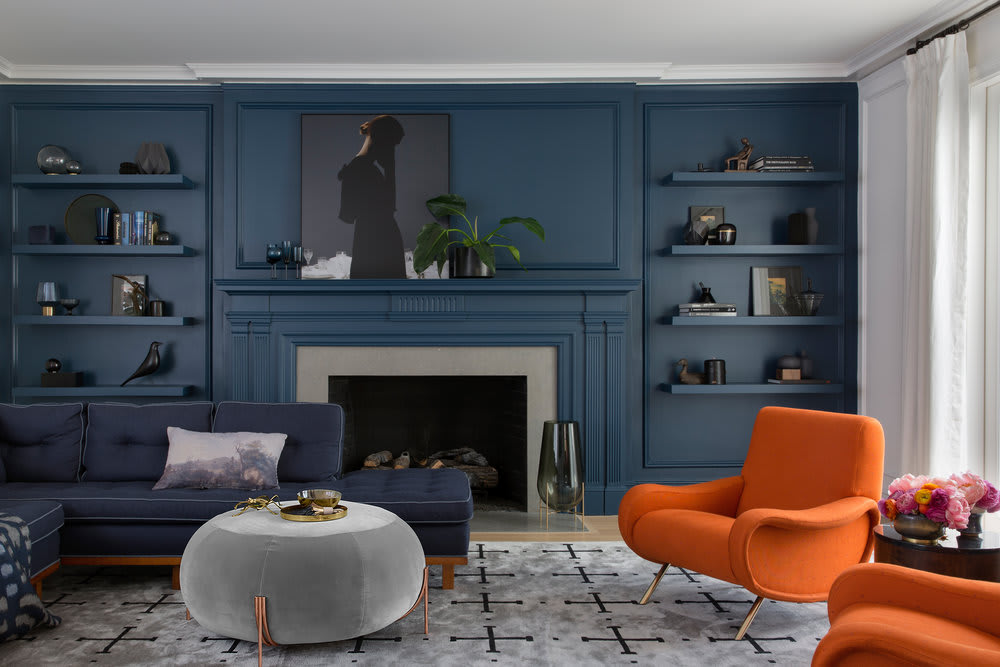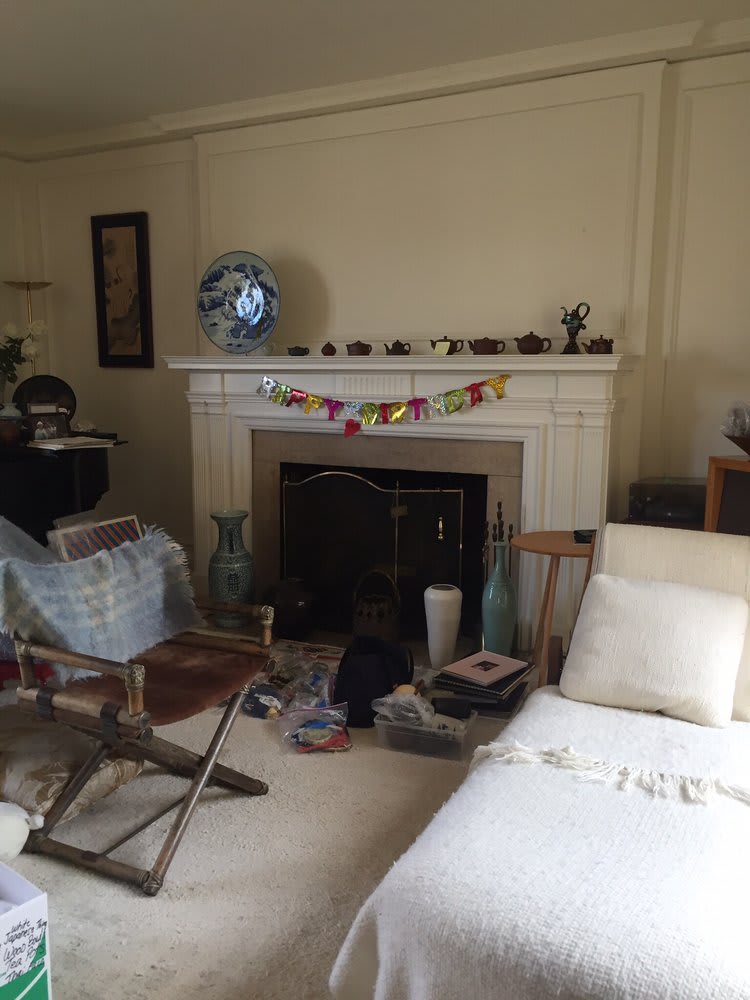 We're not going anywhere soon, but I have to say I would do it all over again — and again. Turns out, with a dream team and some patience and creativity, remodeling in San Francisco can be enjoyable.
So you if you're thinking of remodeling and in search of some advice, here are our biggest takeaways:
Be realistic about your design budget. What goes into the house is often as important as the actual structure of the house. Don't overlook this aspect or wait until the end. Instead, incorporate the design of the furniture into the other decision-making.

Camaraderie with your team will go a long way to ensuring everyone remembers they aren't just building a home, they're building your home. Create a relationship with the crew that's there every day. A small 'thank you' can go a long way (as can dropping off a case of beer at the end of a long work week!).

Remember that mistakes are inevitable, so try to solve the problems together rather than dwelling on what went wrong. You'll save everyone — including yourself — some stress.

Show up as often as possible, even everyday, and check in on the progress. It'll ensure you always have your finger on the pulse of the project and that if and when things do go awry, you'll catch them quickly!

Ask questions and ask lots of them! It's your future home, after all, and it's better to ask a question before it's too late.

If you change your mind or don't like the way something is turning out, pull the plug! Don't throw more money at something you already dislike.
Now, having lived in our home for the past two years, I'm more confident than ever that this was the home for us and that remodeling was not only worth it, but fun! And if he's being honest, Yvo would have to admit he's glad we did it, too. The girls? Well, they didn't love the remodel process, but they did admit that they love our new home even better than our last. And that, my friends, is what I call a win-win-win.
Photography by Suzanna Scott Photography