With the holidays quickly approaching, now is the time to start shopping for your loved ones. But, while doing that, why not be intentional about supporting your local businesses as well? It's no question that 2020 has been an unprecedented year. Undoubtedly, many small businesses have been impacted by the challenging times that have occurred. In the spirit of giving, it's a great idea to show support for your local businesses. From toy shops to bakeries, here are some incredible San Francisco shops to keep in mind while tackling your holiday shopping.
1. The Voyager Shop
To kick off your holiday shopping, head on over to The Voyager Shop. This local shop, located in the Mission District, sells contemporary fashion and homewares. The Voyager Shop specializes in sourcing high-quality items from across the globe, as well as collaborating with local artists and makers. You can make an appointment to stop by the store and enjoy browsing through the diverse selection available.
2. Love on Haight
Located in the heart of the Haight Ashbury District in San Francisco, Love on Haight is a vibrant corner boutique. This thriving business features colorful, art-inspired clothing, including tie-dye. Half of the products are made locally in San Francisco. Additionally, Love on Haight is passionate about giving a portion of their profits back to their community, most notably the homeless youth crisis. From t-shirts to onesies, Love on Haight is sure to have something for all the important people in your life.
3. Green Apple Books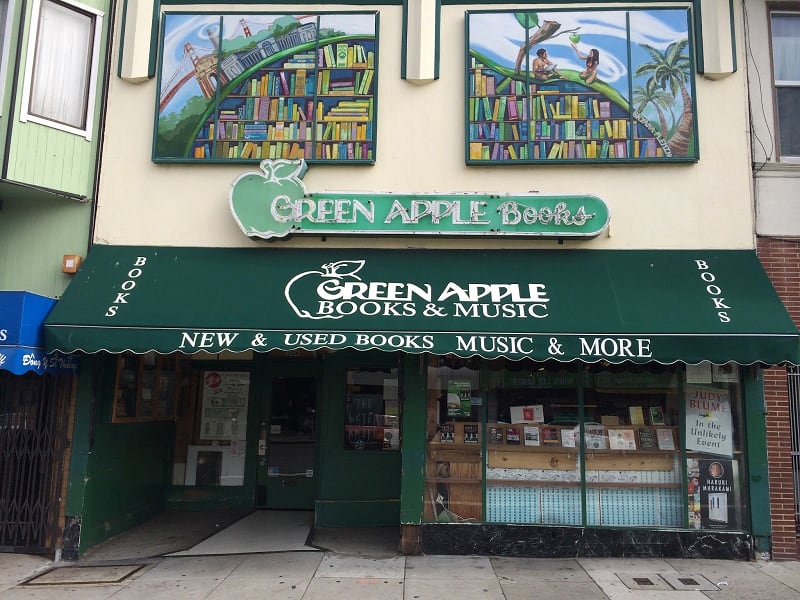 Credit: The Bold Italic


If you have someone in your life who is a bookworm, then you'll want to check out Green Apple Books. This beloved bookstore has become a staple of the community since being founded in 1967. Since then, it has grown to be home to more than 60,000 new books and 100,000 used books.
4. City Lights Bookstore
City Lights Bookstore is another acclaimed San Francisco store. This independent bookstore/publisher specializes in world literature, arts, and progressive politics. City Lights Bookstore was founded in 1953 by poet Lawrence Ferlinghetti and Peter Martin. Since its humble origins, it has transformed into a haven for book lovers across the city and country. With an impressive selection of literature available, you'll be sure to find the perfect gift for the booklover in your life.
5. Originals Vinyl
Since first opening their doors in 2015, Originals Vinyl buy and sell quality used records. This beloved record shop is the perfect place to stop by and grab a special gift for the record collectors in your life. Originals Vinyl is owned and operated by a pair of brothers who are also music enthusiasts. If you have a question or need helping locating a record, these brothers are eager to help you find what you are looking for.
6. Gamescape
Gamescape was established in 1985 and has morphed into a friendly local game store. Located in the Western Addition neighborhood, Gamescape carries a wide selection of games. Board games, party games, card games, role-playing games, and jigsaw puzzles are just some of the exciting offers found here. Stop by and grab a game to give to a friend or perhaps just a game to play when your entire family is together. With shipping, pickup, or delivery available, Gamescape is making your holiday shopping as easy as possible.
7. P.F. Candle Co San Francisco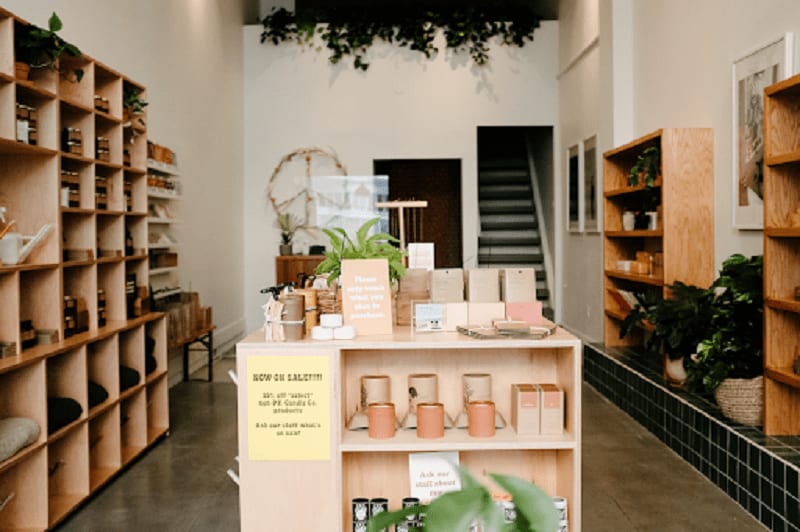 Credit: P.F. Candle Co.


There is little cozier than some delicious smelling candles, whether the fragrance is sugar cookie or pumpkin. P.F. Candle Company in San Francisco is a great spot to tackle some of your holiday shopping. This local candle store features an assortment of unique scents made with high-quality ingredients. Sustainably packaged and vegan and cruelty-free, you don't have to feel guilty while shopping here.
8. Jeffrey's Toys
This beloved toy shop is the place to go for all the little people in your life. Jeffrey's Toys was originally established in 1938 as a Five & Dime store but has since evolved into a thriving and magical store. Family-owned and operated, this store provides the community with educational and imaginative toys, games, and crafting supplies. Puzzles, games, plush toys, retro toys, crafts, action figures, comics, and collectibles are just some of the treasures to be found here.
9. Ayla
If you're wanting to grab some beauty products, you don't want to miss Ayla. Ayla is dedicated to making top-notch beauty products with high-quality, non-toxic ingredients. Carrying a variety of brands, Ayla brings the latest and greatest organic skincare brand and facial treatments. Regardless of your skin type, preferences, or aesthetics, Ayla has something for you. The products found here are committed to helping you feel and look good.
10. Needles and Pens
Needles and Pens is an art shop and gallery featuring independent press, handmade gifts, local writers and artists, jewelry, accessories, and apparel. Established in 2003, this local shop has had a mission to create a bridge between the artistic community and the general public of San Francisco by creating a venue where artists can sell their work. More impressively, 50% to 60% of the majority of items sold goes directly back to the original artist. Stop by Needles and Pens for your Christmas shopping, while supporting a small business and local artists from the area.
11. General Store
General Store, located on Judah Street, has been a part of the San Francisco scene since 2009. This popular shop features an assortment of clothing, household items, books, jewelry, and other small treasures. The overwhelming majority of these products are made by California artisans. Regardless of what you are looking for, the General Store is sure to have something for everyone on your holiday list.
12. Sightglass Coffee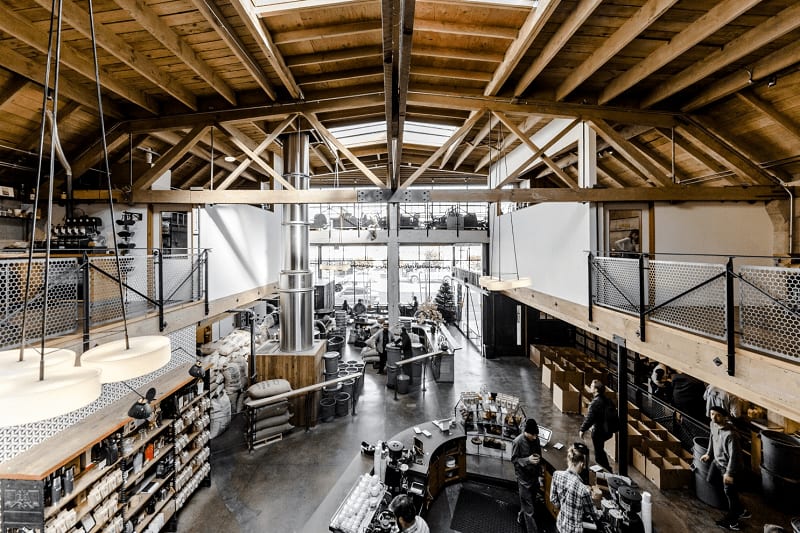 Credit: LA Times


If you have someone in your life who is a coffee addict, then grab them a bag of beans from Sightglass Coffee. Sightglass has been serving up their delicious coffee since 2011. This local shop is known for its dynamic cup of coffee and inviting gathering space. From sourcing to roasting, Sightglass Coffee aims to deliver the highest quality in all aspects of their business. Luckily, you can easily browse through their online store and find something for the coffee connoisseur in your life.
13. Noe Valley Bakery
Nothing says the holidays like indulging in some scrumptious desserts. Whether you are getting a baked good for a gift or wanting to grab something for your holiday party, Noe Valley Bakery is overflowing with goodness. This petite bakery shop offers classic treats, cakes, birthday cakes, cupcakes, desserts, bread, pastries, pies, and cookies. You can order online for your holiday party and pick up in person. With so many tantalizing options, it's no surprise that Noe Valley Bakery has become an integral part of the community since opening 25 years ago.
14. Koka Chocolates
Koka Chocolates make an excellent gift for anyone in your life who likes chocolate (and who doesn't?). Sustainable and fair trade, the chocolate here is made from a rare cacao variety. This variety, named Arriba Naciónal, is prized for its incredible balance and complex flavors. Koka Chocolate carries everything your heart desires. Traditional flavors include dark chocolate, milk chocolate, and sea salt caramel, among others. If you're feeling adventurous, grab some of the unique flavors - banana caramel, mango lemongrass, and pumpkin pie. Browse through their online selection to find the perfect gift to send to your loved ones.
15. Hero Shop
Hero Shop first opened up in 2016 in the Tenderloin neighborhood. Drawing in acclaimed designers, this boutique has achieved success among fashion insiders in the city and around the world. Hero Shop carries ready-to-wear, jewelry, shoes, bags, home, and gift items. The knowledgeable and friendly employees are equipped to answer any questions you might have. If you're not sure what the special someone in your life would like, grab a gift card.
16. Healthy Spot
When it comes to the holidays, you don't want to overlook the furry friends in your life. Healthy Spot, a pet supply store in San Francisco, understands that dogs and cats are more than just pets - they're family. This store is dedicated to giving pet owners a wide assortment of wholesome, organic food lines. Additionally, there is also a vast selection of treats, toys, accessories, and more. If you find it at a Healthy Spot, then you know it is safe! This shop also offers in-class grooming services and Small Dog Daycare. Pick up a new toy or treat for your furry friends and rest assured knowing the treats and toys will be safe.

If you are looking to explore San Francisco real estate, contact Missy Wyant Smit today. As one of the top San Francisco realtors, Missy serves a wide range of neighborhoods across the city. Her expertise and dedication will help you find the perfect Bay Area home for sale.