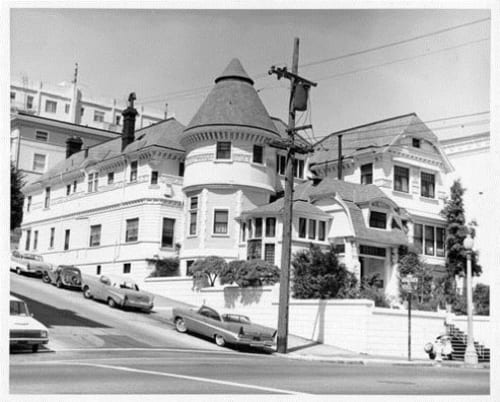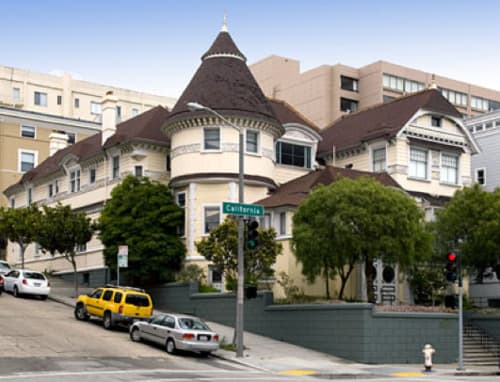 The Atherton House
1990 CALIFORNIA STREET, BUILT IN 1881
This brilliant and seemingly bright mansion on the corner of California and Octavia comes from pretty dark beginnings and might even be home to four angry spirits from a world-renowned Bay Area family. The story begins in 1834 when Faxon D. Atherton, a Massachusetts native, spent time between California and Chile while becoming a trader in hides, tallow, and other commodities. He soon became one of the wealthiest men on the Pacific Coast which led him to make numerous real estate purchases around San Mateo County in 1860; these would later make up what is now known as the city of Atherton. Atherton went on to marry the daughter of a prominent Chilean family, Dominga de Goñi, and they had seven children. One of their sons, George, later married Gertrude Franklin Horn, a well-known Californian author. After Atherton died, Dominga built 1990 California Street so she could spend her winters in the city.
According to Catherine Accardi, San Francisco native and historian:

In 1887, Dominga's nephew Alberto di Goñi , captain of a Chilean steamer, docked in San Francisco. Dominga threw a lavish ball for him and his crew and Gertrude flirted shamelessly with the handsome Alberto. George's cousin invited George to come back to Chile with him, which he accepted. Gertrude was thrilled to get rid of her spineless of a husband. A few days into the trip, he died from kidney failure and his body was returned to the Atherton home, pickled in a barrel of rum.
The story is that the butler pried open the barrel, thinking it was the family's large order of rum being delivered, and was shocked to find his deceased employer. He was heard to whisper "I know he'll haunt me for the rest of my days." However, according to Gertrude's autobiography, the barrel with George in it was not delivered to her doorstep. She strongly denounces that rumor. She says she was in bed in her California Street flat when a friend brought her a newspaper clipping, stating George's body had arrived in San Francisco. One other interesting note is that according to a biography of Gertrude by Emily Wortis Leider, Alberto, cut the heart out of his cousin's body before he put it in the rum barrel, and brought it to Chile for burial. Whichever way the truth may lie, George's body was dried out and buried, but shortly thereafter, his spirit decided to avenge itself on the women who'd tormented him in life. Shortly after his death, Dominga and Gertrude seemed to have some problems with his lingering spirit. They reported being awakened at night by knocks at their bedroom doors and by a cold and disturbing presence. Frequently, each felt that they were being watched by a cold, unsettling presence.
Historic accounts indicate that although Gertrude's mother-in-law continued to occupy the house on California Street from 1881 until her death in 1890, and even cared for Gertrude's children there for a time, all indications are that the prolific authoress never actually resided there herself. After the senior Mrs. Atherton's death in 1890, this residence was purchased by Edgar Mills, the brother of D. O. Mills, of the Bank of California, for whom the town of Millbrae is named. In 1900, the address of the residence was changed from 1950 to 1990 California. In 1905, the house was occupied my Mr. and Mrs. Marion Leventritt, longtime residents of the Palace Hotel. Upon his arrival in San Francisco in 1863, Mr. Leventritt became associated with the firm of Rosenstock and Company, manufacturers, importers and wholesalers of boots and shoes. In 1908, the residence was purchased by George Chauncey Boardman, prominent in real estate matters, whose brick mansion at the southeast corner of Franklin and Sacramento Streets had been destroyed in the 1906 fire. Mr. Boardman was president of San Francisco Fire Insurance, an early San Francisco insurance company. After her husband's death, Mrs. Boardman continued to live in the house until her death on November 6, 1921. Other members of the family resided there until the property was sold in 1923. Throughout these years, residents reported mysterious sounds and icy cold spots. None stayed very long.
In 1923, the property was purchased by architect Charles J. Rousseau. Under his direction the house was carefully divided into thirteen dwelling units. For many years, Rousseau's wife, Carrie, lived in the house's ball room surrounded by more than 50 cats. She died there in 1974 at the age of 93. Some say she still haunts the house. Over the years, tenants at 1990 California reported hearing knocking and felt cold spots throughout the old home. Some reported gusts of wind passing through rooms not exposed to open windows. Others hear arguing voices. Some theorize that George is pleased to have finally taken control of the situation in the Atherton Mansion. His knocking and the presence of cold spots throughout the home continued. Despite the monetary value of the Atherton Mansion and its prime location within San Francisco, tenants moved out almost as quickly as they moved in, made uncomfortable by the haunting presence of George Atherton. In closing this tantalizing tale, we have concluded that indeed there seems to be a minimum four ghosts residing in this one house. So, when you walk by 1990 California Street, remember to take a peek at the windows, who knows, you may see even more.
Catherine Accardi
Sources: http://www.sfcityguides.org/public_guidelines.html?article=1568&submitted=TRUE&srch_text=&submitted2=&topic=https://noehill.com/sf/landmarks/nat1979000527.asp
The Haskell House
3 FRANKLIN STREET, BUILT IN THE 1850S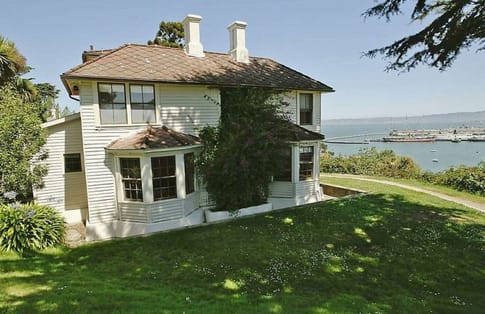 Historical Essay by Dr. Weirde:
The historic Haskell House, which dates back to the 1850's, has hosted a succession of military men since it was confiscated by the Union army in 1863 and turned into officers' quarters. (The Haskell family wasn't entirely happy about the terms of confiscation; Leonidas Haskell, a major on General Fremont's staff during the Civil War, kept unsuccessfully suing to get it back until his death on January 15th, 1873.)
Over the years, the house has developed the reputation of being haunted. Colonel Cecil Puckett, who lived there during the late 1970's, said "I feel that something or someone follows me about the house at times ... I even feel that it watches me in the shower." Capt. Jim Knight (ret.), MTMC Western Area deputy commander who spent two years in Haskell House, when asked if the house was haunted, said "There's no doubt about it. We didn't see or hear anything, but sometimes we'd be in the kitchen and the lights in the dining room would go on by themselves. Or we'd be downstairs and the john in the bathroom upstairs would flush by itself."
The next tenant, Capt. Everett Jones (ret.), didn't believe in ghosts -- at first. "After we moved in we had a couple of parties there and we joked about a ghost being in the house. One Saturday morning after a party, I was in the kitchen putting things away and heard a big crash. Upon investigating, I found that a picture with a picture hook and a nail an inch-and-a-half long had crashed to the floor. It didn't look like the nail had pulled out; it looked like someone had pushed it from behind.
"There was a similar incident later when five pictures fell off the same wall. And my daughter was sitting on her bed one morning and one of those bolt-on light fixtures fell off without warning ... That all happened in the first six months after we moved in -- we stopped joking about the ghost after that."
Since then, the weird goings-on have continued. A painter working on the windows was actually pushed out a window by an unseen force. Plants have tipped over by themselves. Shadows have moved across empty rooms. Ghost hunter Sylvia Brown says she has "seen" a whole mosaic of spirits flitting about the house. The first, she said, was a man in a long black coat with a top hat who paced back and forth; then she saw a group of ghosts of frightened, disoriented black people cowering in the cellar.
The ghost in the top hat could be Haskell, pacing around trying to figure out how to get his house back from the U.S. military. (With the end of the Cold War, he may finally have a ghost of a chance.) But some say the truth is even more bizarre: The hatted ghost is the shade of U.S. Senator David C. Broderick, and the black ghosts in the cellar were underground railway passengers hidden by Haskell and Broderick.
Haunting Linked to Civil War
In the 1850's, California was torn between pro- and anti-slavery forces. The result was a tight stand-off: Though nominally a free state, California had the toughest laws against blacks outside of the South. Just after winning statehood, California lawmakers decreed that any black person in the state could be brought before a magistrate and claimed as a fugitive. In the ensuing proceedings, the victim was not allowed to testify, and so the magistrate would inevitably hand over a certificate of ownership to the captor. It was a de facto "open season" on black people, even those who were not escaped slaves. Many sympathetic whites were reluctant to help, since a fine of five hundred dollars and two months imprisonment awaited anyone who gave assistance to a fugitive slave.
Senator Broderick, like his close friend Leonides K. Haskell, was an outspoken opponent of slavery. (Broderick and Haskell may also have collaborated in helping runaway slaves.) As Broderick was the most powerful political honcho in San Francisco, his anti-slavery diatribes did not endear him to the powerful pro-slavery faction in California government.
It was in Haskell's home that Broderick received a challenge to fight a duel with rabid pro-slavery activist David S. Terry, a transplanted Southerner and Justice on the State Supreme Court. Broderick and Haskell spent most of the next six days together, Haskell trying to talk Broderick out of the duel, Broderick insisting on going through with it. Haskell felt that Broderick's ill health disqualified him from dueling. The night before the duel, Haskell later reported, Broderick stayed up all night at the Haskell house, lying on the floor, drinking coffee, and talking in a profoundly disturbed manner.
After he was killed in the duel, Broderick's death made him an anti-slavery martyr, and the "free-state" forces rallied to lynch Terry and take permanent control of the reins of power in San Francisco. By the outbreak of the Civil War, California was solidly in the Union camp, thanks partly to the "heroic" death of Senator Broderick.
Does Broderick's spirit linger on -- literally -- at Haskell House? If you lurk about the grounds at midnight, don't be surprised to see a ghostly figure in a top hat pacing through the walls.
Source: http://www.foundsf.org/index.php?title=Haskell_House
The Atkinson-Escher House
1032 BROADWAY, BUILT IN 1853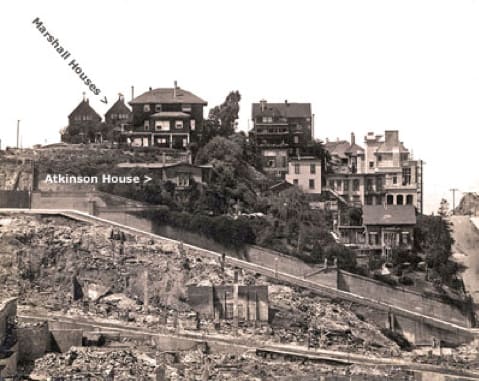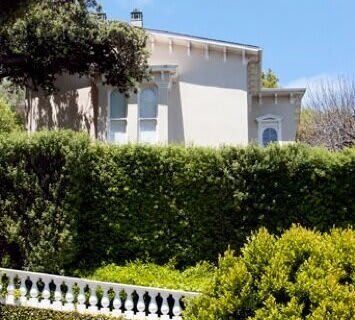 Though there are no reports (yet) of any paranormal activity, this home is considered by many to be one of the oldest standing houses in San Francisco.
According to NoeHill:
This Italian Villa was built in 1853 by Joseph H. Atkinson, as his own home. It was remodeled around 1900 by Willis Polk. Particularly in this area of the city, it is remarkable that the dwelling, located within walking distance of the original settlement at Yerba Buena Cove, has survived for 124 years. An incised stone plaque above the front door reads:

EXCEPT THE LORD BUILD THE HOUSE
THEY LABOR IN VAIN THAT BUILD IT
EXCEPT THE LORD KEEP THE CITY
THE WATCHMAN WAKETH IN VAIN
MDCCCLIII

The house is seen in some of the earliest photographs of the city and from these it stands out as also one of the first houses on this portion of Russian Hill. In one photograph taken in 1867, it appears surrounded by a fence enclosing perhaps one-third of the block at Broadway and Jones Street. At that time Broadway from Mason to Jones Street was merely a "goat path" which zig-zagged up the hill. On Broadway just above Taylor was a natural spring where ferns and other greenery flourished. This spring is still evidenced today through leaks in the blacktop.
Atkinson was born in Pennsylvania. While in his middle thirties he arrived in San Francisco with his wife and young daughter sometime around 1850 during San Francisco's population boom. There is not much to be found on Atkinson himself, although the San Francisco Directory lists him as builder, bricklayer, real estate and patent agent, respectively from 1852 through 1871.
Photographs reveal that this house and others nearby withstood the earthquake and fire better than most and appeared untouched by either. According to Hilliam Bronson in The Earth Shook, The Sky Burned:
Partly through circumstances, partly by hard work and luck, these few homes were the only frame structures spared within the 490-block area.
The owners of these few blocks had evaded the guards and remained behind to fight off the flames. Using water from cisterns that dated back to a day when the City's system didn't reach that far, the stubborn band fought for hours until dusk Friday. Buckets and brooms and wet towels were their tools. The men nailed wooden cleats to their roofs, to make it easier to reach trouble spots.
In 1916, Kate M. Atkinson sold the house to her two cousins, Jane and Florence Paul who ran a small school for local residents; Miss Atkinson continued to reside with them through 1919 when she is last listed at that address in the San Francisco Directory.
In 1931, a fire broke out in the house causing extensive damage to the upper floor areas. Today, charred beams can still be seen through a crawl space leading to a small attic. Bruce Porter, a well-known designer, was commissioned to repair the house.
The Paul sisters, elderly by this time, gave up their school. Jane Paul died in 1932 leaving the house to her sister. Florence Paul lived there until she died in 1940, at which time the house was sold to Katherine Po Littlefield and Walker Paul, a nephew. The house was rented to the Gunst family and sold again in 1946 to tugboat "king," Thomas Crowley who granted it to his daughter Virginia Crowley Escher; she and her family resided there until the fall of 1976. It was then purchased by Alan Nichols."
Sources: https://noehill.com/sf/landmarks/sf097.asp
The Montandon House
1000 LOMBARD STREET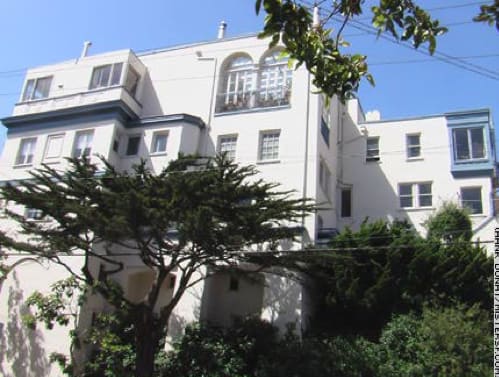 The most crooked street in the world isn't for the faint of heart; not only is it physically taxing getting down the twists and turns on foot, but you might also even experience something spiritually chilling once you make it to the bottom. Here, you'll find a large art deco mansion with quite the story. As the story goes:
In the mid 1960's the house was home to Pat Montandon, the queen of the SF jet-set. So extravagant were her parties that Esquire magazine voted her one of the top hostesses in the nation. It's not surprising then that her first book was entitled 'How To Be A Party Girl'. It was at one of her famous theme parties that Montandon was to meet destiny in the form of a vindictive tarot card reader. It was a zodiac theme party and Montandon had invited a number of palmists, astrologers, crystal gazers, and card readers to entertain and mystify her guests. The trouble began when she forgot to bring the tarot card reader the drink she had promised him. Montandon writes of the incident in her book The Intruders:
"I"m sorry. I'll get you one--" But he didn't allow her to finish. He bolted to his feet with his curious retinue following suit and explaining loudly that he'd never been so insulted in his life. Quivering with rage he directed a stream of abuse at me: He had never been treated so rudely... I was an insufferable, ungracious hostess...he was leaving, but not before he made certain I would never have any happy moments in that house again. He fixed me with a glare, his face puffed and distorted: "I lay a curse upon you and this house. I do not forget, and I do not forgive. Remember that!"
The Manifestations
It was shortly after that curse was uttered that the strange and horrifying occurrences began. An unnatural chill pervaded the house even though the thermostat was permanently set to 90°. Even with this chill there would be spots of deathly cold that would cause her dog to bark and growl as though there was somebody in the room. Montandon would find doors mysteriously locked from the inside of empty rooms. Blood curdling screams would echo through the empty house. Mysterious blood stains would appear and grow on the ceilings.
The curse turned deadly on June 20th, 1969. Montandon's close friend and secretary, Mary Louise Ward, was staying at the house while Montandon was promoting her book. A mysterious fire broke out in the master bedroom. The fire department quickly arrived on the scene but were slowed by the locked from the inside front door and master bedroom door. Inside they found the lifeless body of Mary Louise. Investigations were inconclusive as to the cause of the fire and the cause of death. Mary Louise was not burned, nor had she succumb to smoke inhalation. Her internal organs were undamaged, she did not suffocate, there were no signs of injury, and most suspicious of all it was determined that she had actually died before the fire. Marie Louise would not be the last victim of the curse. Two of Montandon's close friends would commit suicide in the house before the year was up.
Montandon, now desperate to remove the curse sent in psychics Gerri Patton and Nick Nocerino (of crystal skull fame) to perform an exorcism. Nocerino supposedly managed to snap some photos of the ghosts. The house was declared clean but Montandon could not bare to live in the house that destroyed the lives of her closest friends and nearly her own.
Since then the house has been quiet except for the throngs of tourists who constantly travel the crookedest street in the world most oblivious to the terror experienced just a few feet from where they snap their holiday photos in the Montandon House."
Sources: https://www.hauntedbay.com/features/montandon.shtml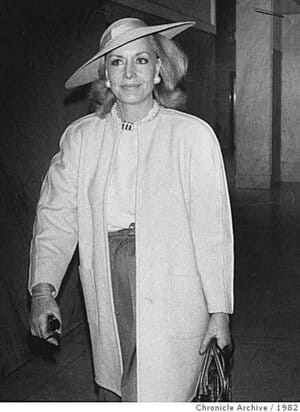 The Chambers Mansion
2220 SACRAMENTO STREET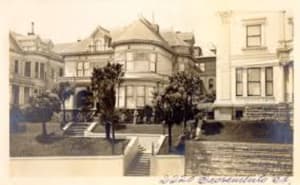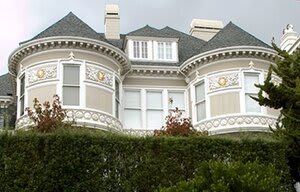 Though there are conflicting stories about this mansion from several sources spanning over a hundred years, one thing remains certain- the Chambers Mansion has a rich, mysterious history. According to NoeHill:
This Queen Anne Victorian with Gothic and Tuscan detailing was designed by J. C. Mathews & Son. This house was perhaps built for Richard Craig Chambers who perhaps made his fortune in the silver mines of Utah before moving to San Francisco in 1887. Although many web pages refer to Chambers as "Utah State Senator," Utah did not become a state until 1897, ten years after the Chambers Mansion was built. I failed to locate reliable facts about Chambers, not even on Mormon genealogy websites which should certainly have a record of all Utah Senators, even Utah Territorial Senators in the good of days of divinely and legally sanctioned plural marriage.
Lacking facts, let's move on to the colorful stuff.
According to an urban legend reported by many bloggers as well as Heather Knight in the 26 October 2001 edition of the Sam Francisco Chronicle, Chambers lived here with two nieces who hated each other. When he died in 1901, they inherited the property. The legend says that one sister built a house next door and moved into it, although the neighboring Queen and Slack Houses were built prior to 1901. The other sister remained in the Chambers Mansion and met a grisly and mysterious end. She was found cut almost in half. Her relatives maintained that she had suffered a "farm implementation [sic] accident," but others suspected that she was murdered by an insane family member who had escaped from confinement in the attic."
The Whittier Mansion
2090 JACKSON STREET, BUILT IN 1894-1896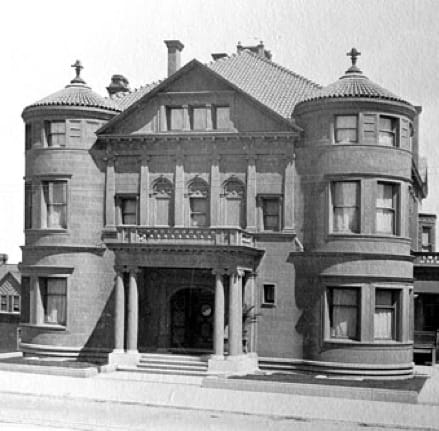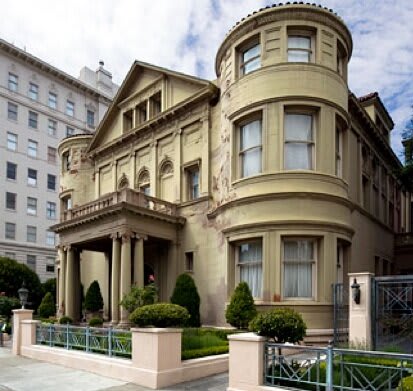 According to Noe Hill San Francisco:
This massive Arizona sandstone building was built for William Franklin Whittier between 1894 and 1896. One of the few major houses of the late 19th century to survive to the present day, it is an interesting combination of massive Richardsonian Romanesque with Period styling. The architectural details of the interiors are exceptional in material and in preservation.
Occupied as a residence until the early 1940's, it was sold to the German Reich in 1941 as a San Francisco consulate. Seized by the Alien Property Custodian (later transferred to the Attorney General of the United States) during World War II, it was auctioned in 1950 to Mrs. Echo Leonetti. From her it passed to George and Mary Barton, thence to Robert Wilhelm and Isabelle and Paul Dessez, and finally to the California Historical Society in 1956.
Mortimer Adler's Institute of Philosophical Research occupied part of the building from 1952 to 1955.
Source: Historic American Buildings Survey Data Pages for the Whittier Mansion
The California Historical Society long ago moved to less flamboyant quarters on Mission Street. The Whittier Mansion is once again a private residence.
Students of the paranormal tell us that the Whittier Mansion is haunted and that over the years many people have seen shadowy outlines and felt ice cold presences around the wine cellar and maid's quarters. Most believe that it is the ghost of William Whittier, but at least one of the former docents believes that the ghost is actually Whittier's incorrigible son Billy still searching for a bottle of claret and a wench to serve it up.
Happy Halloween!
-MWS Team