Staging your house before listing it for sale is crucial in setting yourself up for selling success. If you're dreaming of a quick and profitable selling process, staging could be the missing key you need.
Here are eight reasons kitchen staging is a vital part of the home selling process.
1. It's One of the Most Important Rooms in the House
Kitchens are precious. They are where we take our first sip of coffee in the morning, whip up brunch for two, serve afternoon snacks to the kids, and wind down with a glass of wine in the evening. For many people, kitchens are the heart of the house, and home stagers will tell you the same. There are three distinctly important rooms in the home whenever a potential buyer enters the picture: the living room, the main bedroom, and the kitchen. These touchstone rooms comprise the bulk of the house, so focusing on these areas when staging a home is pivotal to your home's success on the market.
2. You'll Sell Your Home Faster
The National Association of Realtors performed a study that showed that the longer a house stays on the market, the less it typically sells for. Staging aims to curate an eye-catching visual display so it will be swept up by an adoring buyer quickly. Whether you opt for a do-it-yourself approach or hire an Accredited Staging Professional to spearhead the project, staging your kitchen can help your listing make a splash in an oversaturated market and stand out to potential buyers. Staging your home can help your house spend 70 percent less time on the market compared to a home that hasn't been staged, even if you only stage the crucial rooms, including the kitchen.
3. Higher Return on Your Investment
Owning a home is an investment in a high-performing asset that can make you money in the long run, and staging your kitchen helps propel your house forward on that journey. Because staged homes often sell significantly faster, you'll likely also experience a higher increase in your return on investment. Boosting your ROI is key to making a profit on your home investment, and staging your kitchen is an excellent place to start. The NAR notes that staged homes frequently see an increase in selling price between 1 and 5 percent over the asking price and up to 21 percent in home value after staging. These large-scale increases are the product of smart, design-savvy staging and wouldn't be seen otherwise. Although professional staging can be a sizable financial endeavor, that money is often made back in returns due to higher selling points.
4. Help Buyers Feel Right at Home
When buyers come to look at your house, they want to feel at home. Many of life's most beloved memories are made in the kitchen. Helping buyers imagine their lives in each room is the cornerstone of home staging, and no place is this more important than in the kitchen. Home staging's sole purpose is to create a neutrally appealing palette that will be inviting to viewers from all walks of life and with a broad array of design tastes.
This is a vital pillar of home staging. Without it, a vacant kitchen can be challenging to imagine at its fullest potential, but a kitchen crowded with personal trinkets, family photographs, and mismatched mementos can also deter buyers with its cluttered look. When a home is successfully staged, buyers will be enamored with the look and feel of the space, which means they'll be more likely to place an above-asking offer on a house so they can increase their chances of closing the deal.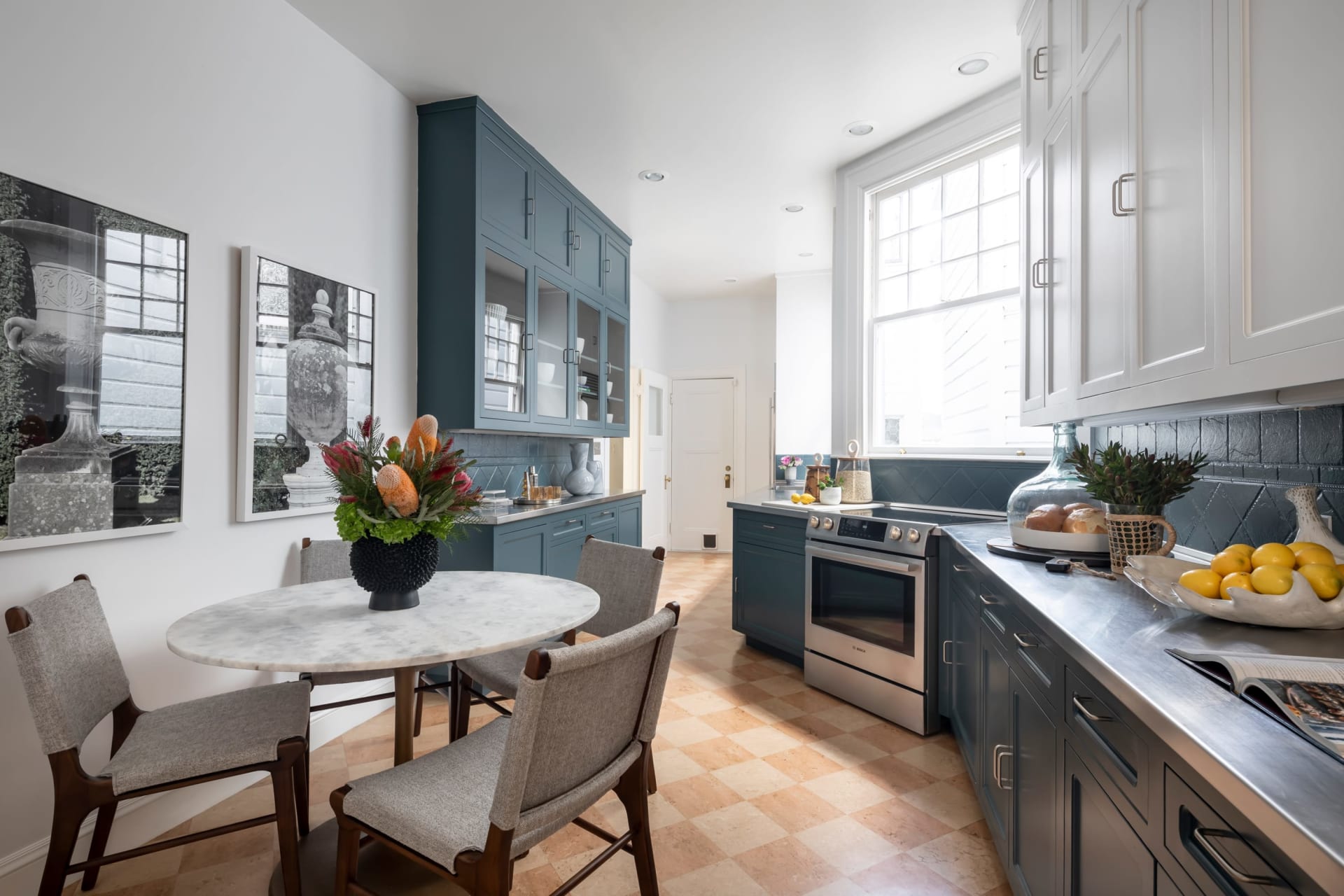 5. Make Your Mark Online
Now more than ever, online listings are the first place many buyers will glimpse your listing. According to the NAR's report in 2017, as much as 99 percent of potential buyers 36 and younger utilize the internet as their primary home searching tool. You can hire the best photographer in the world, but if your home isn't staged to showcase its fullest potential, you won't reach the audience you dream of.
Whether you're participating in virtual open houses or uploading photos of your home, staging your kitchen is an important step for making the most of your online listing. A lackluster kitchen isn't enough to pique a potential buyer's interest. You'll need to use every tool in your arsenal to grab their attention on the online marketplace.
Perhaps most importantly, you need your online listing to be dazzling enough that those buyers will pick up their car keys and come view the estate for themselves. In a study, staged homes encouraged 40 percent more buyers to visit the listings in person after finding them online versus homes that weren't staged.
6. Let Your Kitchen Shine
Because the kitchen is one of the most widely used rooms in the home, it also experiences some of the most wear and tear. Potential buyers have a laser-focused eye for dirt, grime, and necessary repairs. If you've been putting off a kitchen update, there is no better time than now.
Staging requires a clean slate, and if you want to show off your kitchen's full potential, you'll want to make sure every corner is cleaned and decluttered. One study suggests that simply decluttering a space could increase your home's ROI by 432 percent, so there's a good financial incentive to tugging on the rubber gloves and tossing out the clutter. Any repairs that need to be done should be finished before you begin staging the room. This includes leaky faucets, windows that need to be resealed, and light bulbs that have burnt out.
Although you likely won't need to undergo a complete kitchen remodel before selling your home, you can consider exchanging your current appliances for newer models to ensure your space is up-to-date with current trends and technology if you're interested in taking your kitchen to the next level. Wiping down the counters and cabinets, polishing hardware, and folding the towels are all last-minute touch-ups that will help your kitchen sparkle.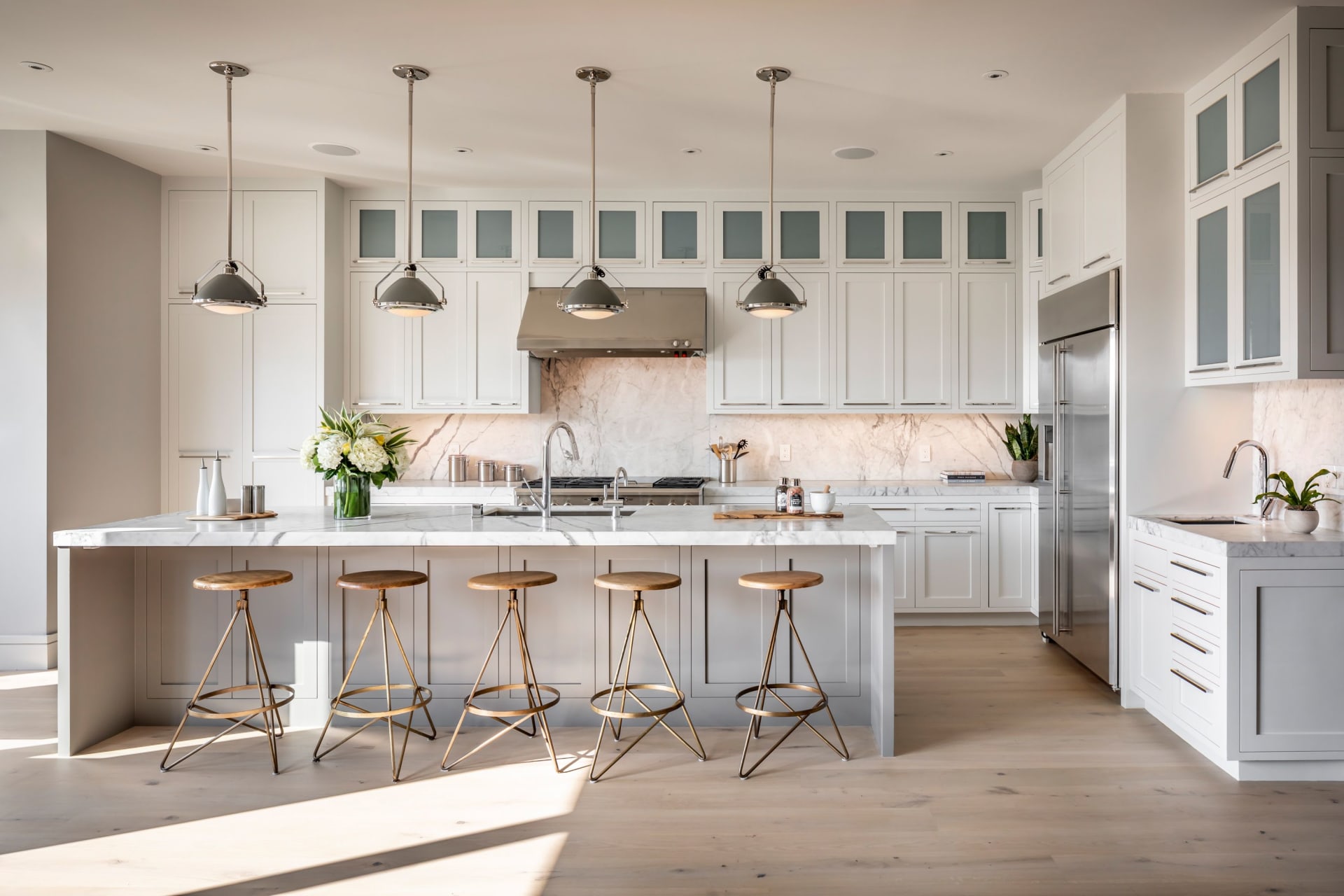 7. Stay on Trend
Sometimes, after living in our homes for long periods, our space naturally falls out of style. It is comfortable and familiar to us, but to a potential buyer, it might feel out of date. Staging — and hiring a professional stager in particular — allows sellers to give their kitchens the makeover they didn't know it needed. Because professional stagers have developed such a keen eye for design and often have a catalog of decorative items at their disposal, they can help reimagine the kitchen to check all of a potential buyer's boxes, whether it's swapping out light fixtures for something newer or tackling the hardware for a more sleek finish.
This year, green kitchen cabinets are all over design magazines and Instagram pages. As this new trend is taking root, a home stager might recommend a fresh coat of sage-hued paint on your cabinets to make the space appealing to modern buyers. Balancing trends and timeless design is where a professional stager can help your kitchen resonate with interested viewers.
8. Make the Most of Your Space
Because so much of a kitchen's space is permanently attached, such as countertops and cabinets, hiring a stager can help bring a new perspective to a space that might be difficult to envision in new and enticing ways. Swapping furniture, such as bar stools or kitchen tables, for pieces that better suit the space aesthetically is an essential aspect of home staging, and our well-worn, lived-in furnishings might not be up to par for design standards.
Because kitchens are such highly trafficked areas, they're also a prime spot for a build-up of personal items. A home stager can help you balance the necessary touch of home needed to make your space feel welcoming without bogging it down with personal items. This new viewpoint can also help neutralize any design concerns and help find the missing piece for your kitchen — whether it's lifting your curtains to elongate the appearance of the windows, painting the walls white to brighten up the room, or finding the perfect upholstery pattern to match the style of the rest of the house.
Staging your kitchen is just one key component to selling your house, but it can have an impressive impact on your experience, from spending less time on the market to increasing the sales price. If you're curious about San Francisco real estate or Bay Area homes for sale, contact us today, and I'll be happy to provide you with more information.